Python is about to be voted "language of the year" for the 4th time in TIOBE ranking history.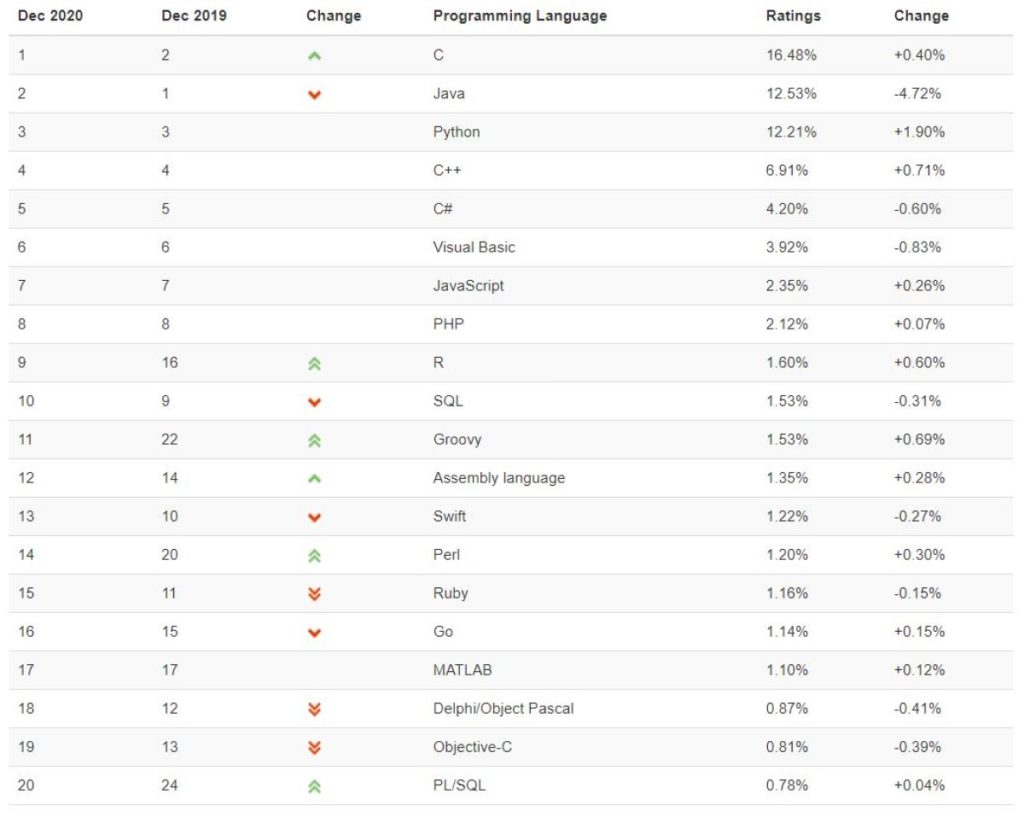 Python in the lead for a 4th "language of the year" title
Next month, TIOBE will announce the programming language for the year 2020, which is the language that has seen the strongest rise in grades over the past year. This should be Python, which has a large lead (+1.90%), compared to its three other challengers C ++ (+ 0.71%), R (+ 0.60%) and Groovy (+ 0.69% ).
According to Paul Jansen, CEO of TIOBE, there is little chance that another language could compete with Python in this last month of the year, which is why Python is almost guaranteed to earn the title of "language of the". year "for the 4th time, which would be a new record in the history of the TIOBE ranking.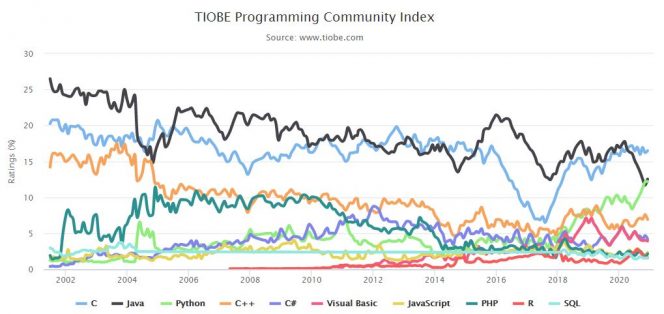 Java returns to Python, but for how long?
Last November, Python managed to secure 2nd place for the first time in the ranking history, but for this month, Java has just fallen behind Python. These two languages ​​are neck and neck but Java is experiencing a decline in popularity (-4.72%) unlike Python (+1.90%) so it is very likely that Python will again overtake Java in 2021. In terms of Concerning the C language, it still consolidates its leadership position and remains largely in the lead.
The top 3 of the TIOBE ranking is as follows:
C (16.48%)
Java (12.53%)
Python (12.21%)
Movements to highlight among languages ​​with high potential
There have been some notable positional changes in the ranking of other programming languages ​​(beyond the 20th position). Here's what to remember:
Rust goes from 25th position to 21st,
Julia also advances from the 30th to the 26th,
Dart loses positions and falls from 27th to 31st,
Kotlin is also experiencing a decline from 36th to 40th,
TypeScript gains one place, from 43rd to 42nd.
What are the TIOBE ranking criteria?
If you didn't know, TIOBE is a benchmark indicator on the popularity of programming languages. To establish a ranking, it will be based on the queries of the 100 most searched programming languages ​​on the most used search engines such as Google, Bing, Baidu, Amazon, YouTube, Wikipedia, etc. TIOBE then classifies the languages ​​by assigning them ratings, which helps identify trends and thus know which languages ​​are most popular with the developer community.